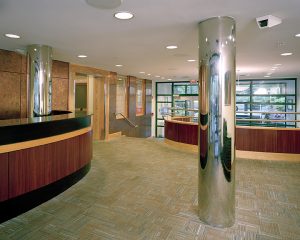 Dexter Park Apartments
Brookline, Massachusetts
Extensive redesign and renovation brought new life and energy to the main lobby, entrances and hallways at this busy 360-plus unit apartment building on the Brookline-Boston line. Through imaginative repurposing of little-used storage spaces and offices, we were able to create several new spaces for the community to enjoy, including a community gathering room, a screening room, and a children's play room. Two apartments that were located directly off the lobby were transformed into a comfortable leasing office for management and staff.

50 Fleet Street
Boston, Massachusetts
50 Fleet sits at the edge of the historic north end of Boston where it meets the waterfront. Eight two-bedroom luxury condominiums overlook both distinct areas of the city. The brick echoes the traditional architecture, but surprising touches, such as a marine-grade mahogany entry door and details, large windows, an open corner overlooking the harbor, and a shared roof deck with city and harbor views connect the building to the harbor. The street level contains the entry lobby and a private indoor parking garage.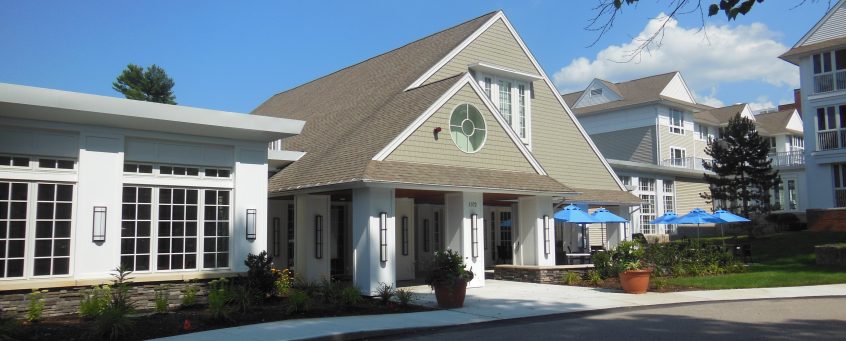 Fuller Village Fitness Center
Milton, Massachusetts
Fuller Village, an active senior-living community with 165 apartments, had a small fitness room since it opened in 2004. Following a master planning process we led with the board, staff and residents, expanded fitness opportunities were determined to be a key priority. The fitness center expansion was strategically placed at the entrance to the Commons to show the importance and visibility of fitness to quality of life. The new fitness center includes a yoga and dance studio, a large new workout room with strength and cardiovascular training equipment, and spacious new locker rooms with showers. The fitness center expansion also improved the connections between the locker rooms and the existing indoor swimming pool. New outdoor dining space with a gas firepit was also added, further enlivening the front entry.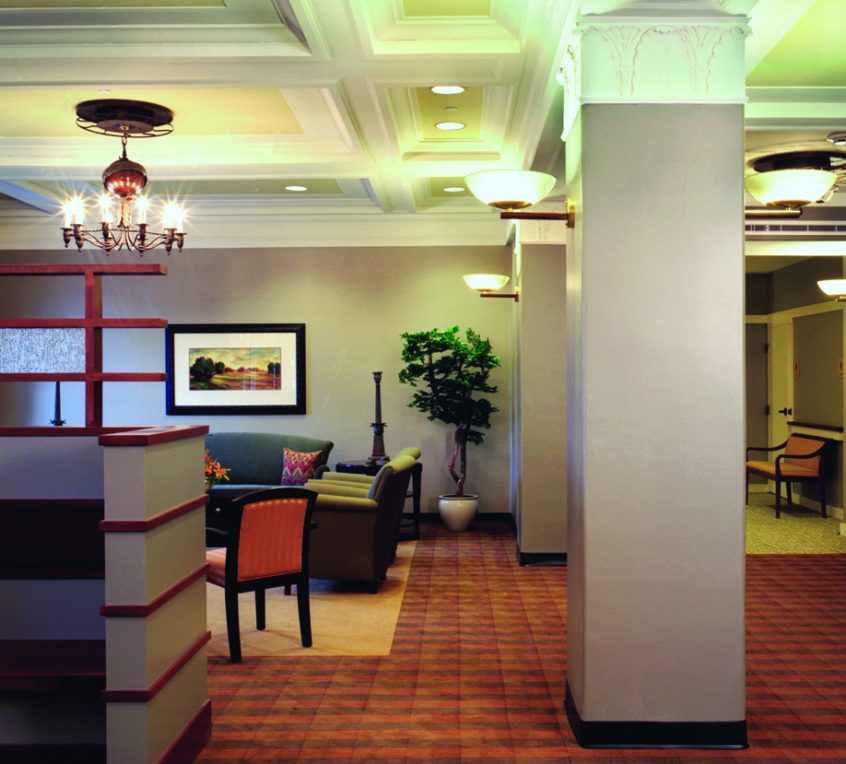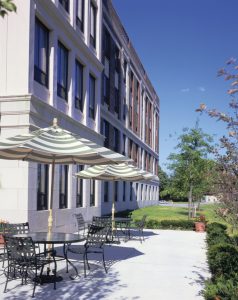 The Foley Senior Residences
Mattapan, Massachusetts
The Foley, which now includes 98 mixed-income studio and one-bedroom units for independent seniors, is an exceptional example of the restoration and reuse of an historic building. Set among 52 hilly acres near the Neponset River, the Foley building, site of the former Boston Specialty and Rehabilitation Hospital, had been abandoned for over 20 years. The Foley now includes a café, dining room, chapel, library, computer room, salon, laundry facilities, and a wonderful veranda where residents may choose to sit back, relax and take in the views of the lush landscape.